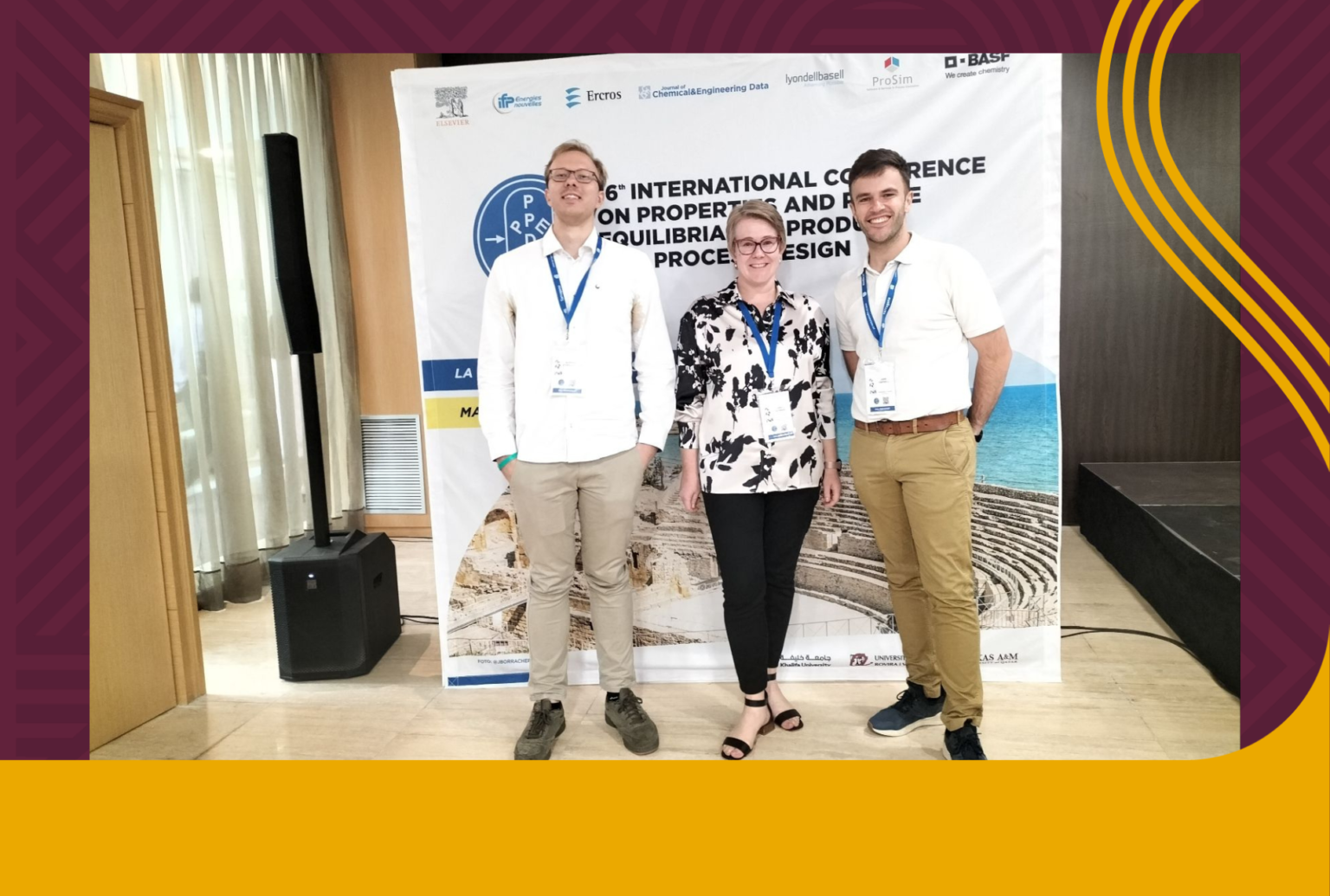 The Department of Chemical Engineering at Stellenbosch University was recently well-represented in Tarragona, Spain, at the International Conference on Properties and Phase Equilibria for Product And Process Design (PPEPPD).  
The conference, spanning four days, served as a platform for academic and industrial researchers to discuss the current state and future directions in thermophysical properties and phase equilibria. Representing our department were Prof Cara Schwarz, Dr Jamie Cripwell, and PhD candidate Mr Alex Schulze-Hulbe. Of the approximately 220 attendees, 24 researchers from across the globe were invited to contribute a oral presentation on their work. Among them was our very own Prof Schwarz with her presentation: Effect of variation in data set on the thermodynamic model parameters and process simulation. "It was an honour being selected to present my work at PPEPPD," said Prof Schwarz. "The conference has only a limited number of oral presentations and I was elated that my work was selected. I was also thrilled that my presentation attracted many attendees, as well as encouraged by the interesting discussions that followed the presentation." 
Eight posters showcasing our students' research were also featured at the conference. The work presented was a combination of research within the Separations Technology and Machine Learning research groups. "It was a wonderful opportunity," said Dr Cripwell, "to showcase our research among world-class work. Attendees of the conference, even from large EU institutions, approached us for discussions and were impressed by our high quality of work." Mr Schulze-Hulbe agreed it was a highlight of his PhD journey: "It was fun discussing the thermodynamic modelling work we do at the department with researchers from all corners of the globe." As a student, he found seeing people whose work he has been reading for years very exciting and was struck by how friendly and helpful many distinguished professors were. "PPEPPD showed me that the research we do is truly world-class," Mr Schulze-Hulbe added.  
The posters presented included: 
Photo: PhD candidate Mr Alex Schulze-Hulbe with Prof Cara Schwarz and Dr Jamie Cripwell.