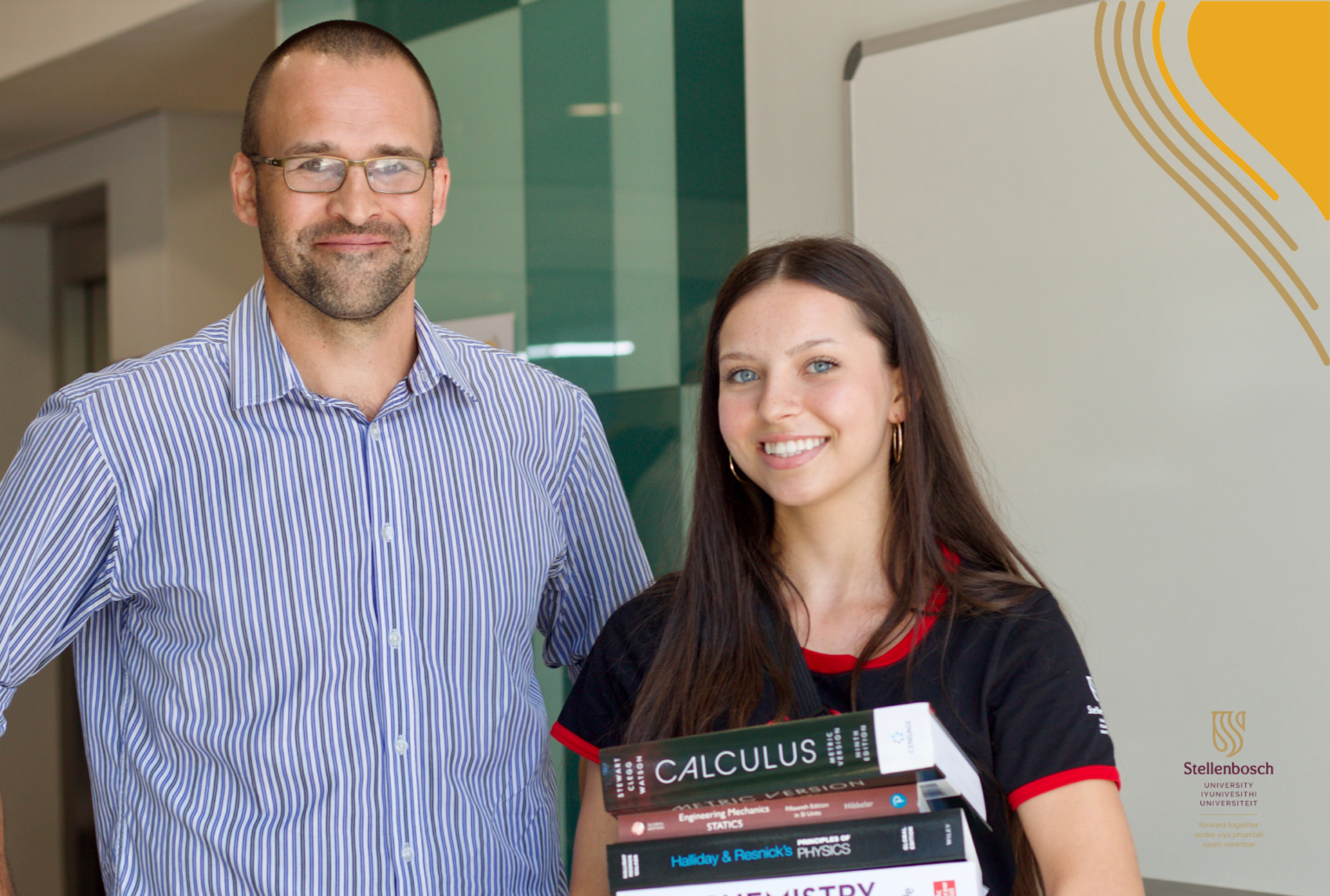 Lugging around heavy textbooks is a rite of passage for new chemical engineering students, and first-year student Lou Seraqui de Buttafoco's knack for judging a book by its cover (and weight) has made this task a little sweeter.  
During the Engineering Faculty's Open Day on 23 April last year, the Department of Chemical Engineering gave prospective students the opportunity to win all their first-year textbooks — worth around R10 000! — by guessing the total weight of these books. Lou's calculation of 16.41 kg was the closest estimation to the actual weight of 16.5 kg. Departmental Charman, Prof Christie Dorfling, presented Lou with her first semester' books during the department's welcoming programme on 8 February 2023.  
Although Lou, who matriculated at Rhenish Girl's High School in Stellenbosch, had always been drawn to study engineering, she said that winning this prize was a clear sign that it was the study path she was destined to follow. "Every day when I use my books, I'm reminded of this unique opportunity handed to me," she said. "I am very grateful to the Department of Chemical Engineering for contributing to my passion and education by offering me such a valuable prize."  
 
How did you estimate the weight so accurately?  
Truly I was very surprised by how accurate the weight I estimated was. I did not expect it! I frequently base my everyday guesses on comparative and intelligent estimations and approximations. I just estimated the weight of the biggest book and then scaled the weight down proportionately for the rest of the smaller books.  
How are you enjoying your studies so far?  
It might sound contradictory since engineering is very demanding, challenging, and time-consuming, but I sincerely enjoy every minute of my studies. This is partially due to my passionate lecturers, who always come with a positive and energized attitude that creates a productive and pleasant classroom atmosphere every day.  
 The Maties community and the university's environment have had such an uplifting effect on me since my arrival here. My classmates have been welcoming, helpful, supportive, and inspiring, making me excited and eager to study and continue my journey at Stellenbosch University.  
Lou is also one of the recipients of the First-Year Chemical Engineering Merit Award bursary for top-achieving first-year students with a final Grade 12 average of 88% and higher. We wish her all the best for her future in our department!