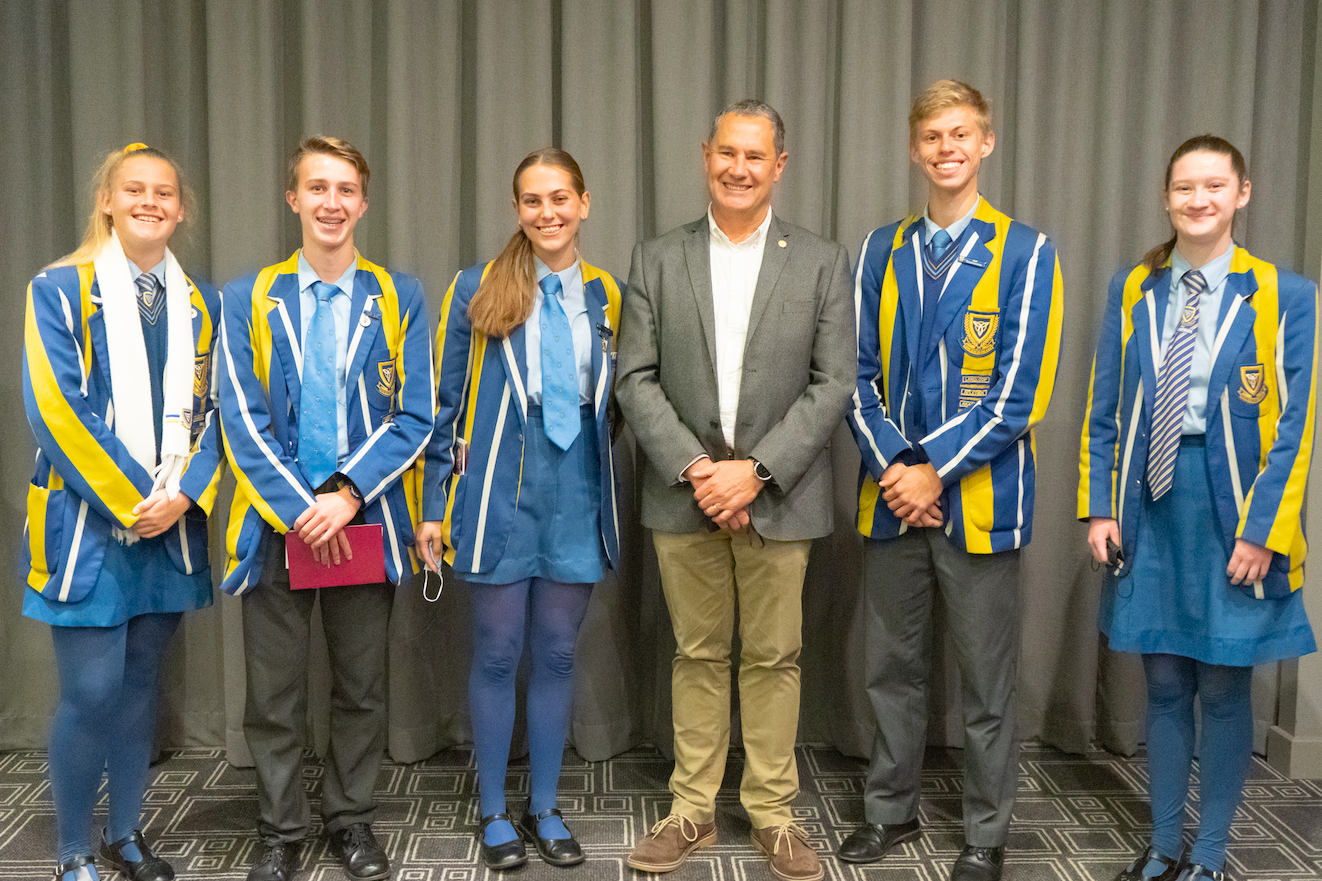 *English to follow *
Top graad 12-leerders regoor Pretoria en Johannesburg het Woensdagaand, 18 Mei 2022, 'n voorsmakie van Matie-wees gekry, tydens 'n Universiteit Stellenbosch (US) Ingenieurswese-gedrewe Topleerderfunksie.
Die funksie is by die Protea Hotel in Menlyn gehou, waar skoliere die geleentheid gehad het om meer te leer oor Ingenieurswese by die US. Prof Wikus van Niekerk, self 'n oud-Afrikaans Hoër Seunskool in Pretoria skolier, het die leerders en hul ouers toegespreek in sy hoedanigheid as Dekaan van die Fakulteit Ingenieurswese. Ook teenwoordig was die Departement Prosesingenieurswese se eie Prof Tobi Louw, asook August Engelbrecht van Fakulteit Ingenieurswese Voornemende Studente Navrae, en Eleanor Brink, US-werwing.
"Om nuwe dinge te skep is regtig waaroor ingenieurswese gaan," het Prof Van Niekerk tydens sy aanbieding aan die gaste gesê. "Ingenieurswese is om idees 'n werklikheid te maak." Prof. Louw het in sy aanbieding vertel oor die wonderlike wêreld van chemiese ingenieurswese, met spesifieke betrekking tot dié kursus by US, die departement se top-fasiliteite,  en  toekomstige loopbaangeleenthede.
Leerders is ook tydens die geleentheid genooi om op Woensdag, 25 Mei 2022, 'n aanlyn-aanbieding oor die US se chemiese ingenieurswese-kursus by te woon. Hiér sal hulle die geleentheid hê om van die departement se dosente te hoor, meer oor die kurrikulum te leer, en algemene vrae vra. Enige iemand wat belangstel om chemiese ingenieurswese te studeer is welkom, en kan hul plek bespreek deur hierdie skakel te gebruik.
*
Top Grade 12 learners across Pretoria and Johannesburg had a sneak peek into the life of a Matie on Wednesday 18 May, during a Top Learner Function hosted by Stellenbosch University's (SU) Engineering Department.
The function, held at the Protea Hotel in Menlyn, was an informative opportunity for prospective SU engineering students. Prof Wikus van Niekerk, Dean of Faculty, welcomed the learners and their parents. Among the guests were also a few Afrikaans Hoër Seunskool learners, where Prof Van Niekerk also matriculated. Other speakers included our department's very own Prof Tobi Louw, as well as August Engelbrecht of Prospective Student Enquiries, and Eleanor Bring, who is a part of SU's central recruitment and marketing team.
"Creating new things is what engineering is all about," Prof Van Niekerk said to the guests, while telling them more about the faculty. "Engineering is to make ideas a reality." During Prof Louw's presentation, those in attendance learned more about the wonderful world of engineering. He also spoke about studying chemical engineering at SU, out cutting-edge facilitates, and future career opportunities in the field of chemical engineering.
Learners interested in studying chemical engineering at SU were also invited to attend a Q&A webinar hosted by the department, which will take place on 25 May 2022. Here, learners will have the opportunity to hear from our department's lecturers, discuss the programme's curriculum, and ask any questions about studying chemical engineering that they might have. Anyone interested in studying at the department is welcome to join and can book their spot using this link.