The Department of Chemical Engineering at Stellenbosch University is proud to introduce its newly elected Postgraduate Student Council (PGSC) for 2023. The PGSC is devoted to enhancing the postgraduate experience by providing academic and social support, as well as promoting community engagement. The department boasts a thriving postgraduate research environment with approximately 130 registered postgraduate candidates, including researchers from across Africa and the globe. 
The PGSC comprises eight dedicated members, each with their unique backgrounds, research interests, and portfolios. Let's get to know them better! 
Veronica Lourens

(Chairperson and PG Symposium)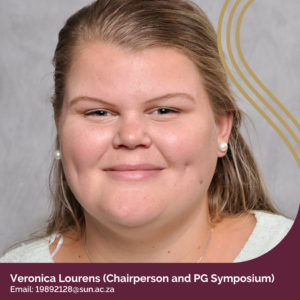 "An invisible council is not a council," says Veronica Lourens, who hails from Pretoria. She and the PGSC aim to make themselves more visible to the broader community. "I want the council to continue fostering community amongst the postgrad students and everyone who frequents the department". Veronica's research focuses on high solids fermentation of sugarcane bagasse to produce enriched animal feeds. "You'll frequently see me walking around with a lot of glass bioreactors and a very dirty lab coat."  
She loves chemical engineering for its versatility, allowing individuals to work anywhere with the skills acquired during undergraduate studies. When she is not studying or doing research, Veronica enjoys what she dubs the three S's: shopping, sleeping, or watching soapies. "I also do basically live in the department, so you'll mostly find me here." 
When you were little, you wanted to become an …  
Astronaut, lawyer, or marine biologist – depending on my mood. 
Send Veronica an email.
Jade Amos
(Secretary)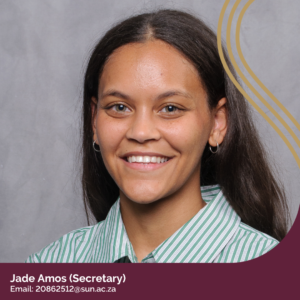 Secretary Jade Amos is from Stellenbosch and currently resides in Durbanville. She is pursuing a master's degree in chemical engineering within the extractive metallurgy research group. Jade loves studying chemical engineering because it offers endless opportunities for learning and personal growth, stating that "you are never totally clued up on anything and that you never stop learning." She has some insightful advice for undergraduate students: "Work in a group setting but never lose the ability to learn independently. It's easy to know something if someone told you how to do it, but it will remain with you if you find out for yourself." 
If you could have one superpower, what would it be?  
I would want to be invisible to do kind deeds unnoticed.
Send Jade an email.
Moleboheng Ntsetselane
(Treasurer)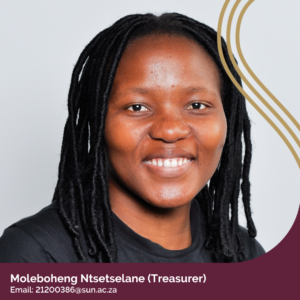 The council's treasurer Moleboheng Ntsetselane is originally from Maseru, Lesotho, and moved to Stellenbosch to pursue her undergraduate studies. Her postgraduate research focuses on investigating the production of sustainable cosmetic wax via Kolbe electrolysis of carboxylic acids. Moleboheng appreciates the flexibility that a chemical engineering degree offers, stating that "you can literally apply it everywhere." She also has some valuable advice for undergraduate students: "Never work on your own! This degree is hard already, make sure you have friends to work through this degree with. It's okay not to be on top of things but make sure you catch up with your work in time."
What's the best chemical engineering joke you've ever heard?  
"Chemical engineers are glorified plumbers," by Prof Robbie Pott. He said this in one of the fluid dynamics lectures, and I found it surprisingly very funny. 
Send Moleboheng an email. 
Richard Mampana
(Socials and Social Impact)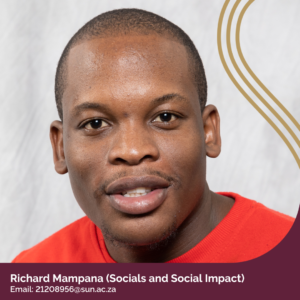 Born in Pretoria and raised in Ga-Manhlodi, a small village in Limpopo, Richard Mampana aims to "build on the ideas the previous PGSC group had and increase the involvement of the postgraduate group in community services around Stellenbosch." His postgraduate research is centered on the valorisation of industrial brown seaweed waste using chemical methods. Regarding advice for undergraduate students, Richard emphasises the importance of balance: "Be open-minded and always make time to relax and focus on yourself." 
Finish the sentence: the key to a great PGSC social is… 
Good music and refreshing beverages. 
Send Richard an email.
Lukhanyo Rode
(Socials and Social Impact)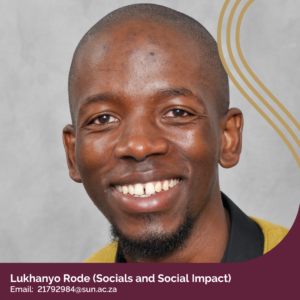 Lukhanyo Rode, jointly heading the Socials and Social Impact portfolio with Richard, has roots in Gauteng (Katlehong), Cape Town (Khayelitsha), and the Eastern Cape (Cofimvaba). Lukhanyo strongly advocates for social impact events, as he believes "the good we do for other people and the environment benefits not just the recipients but also the ones who do the good." His postgraduate research focuses on modelling biorefineries in Aspen Plus to produce various chemical compounds from A-molasses, including propylene, carbon fibre, and polyurethanes. He advises undergraduate students to "have a good company of friends," citing an African proverb: "If you want to go fast, go alone. If you want to go far, go together." 
Finish the sentence: the key to a great PGSC social is… 
A bunch of good people, good music, and a good something cold.
Send Lukhanyo an email.
Anthony Tapfuma
(International Students and Safety Rep)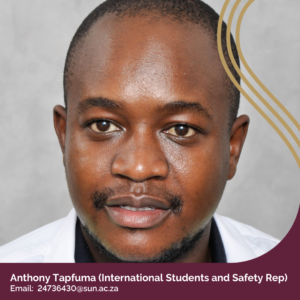 Anthony Tapfuma, who will head the international students' portfolio, hails from Bulawayo in Zimbabwe. He appreciates his country's peaceful atmosphere and cultural diversity. To international students, he offers words of reassurance: "Feel at home and welcome here in South Africa. It is a lovely country to live in, with both Western and African cultures. It has been home to more than 40 nations and is regarded as the warmest country in the Southern region of Africa." Anthony's research revolves around the leaching of gold from tailings using benign chemicals called amino acids. His work aims to use clean amino acids in processing gold from waste, generating profits while preserving the environment. 
If you could visit any place in the world, where would it be and why?  
I would love to visit Australia, specifically the suburb of Bentley, about six kilometres southeast of central Perth, home to the Chemical Engineering building of Curtin University. It is a must for me to visit the birthplace of GlyLeach and GlyCat. 
Send Anthony an email.
Thaakira Jabaar
(Transformation and PG Symposium)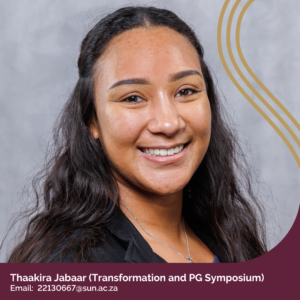 Thaakira Jabaar, responsible for Transformation and the postgraduate symposium, grew up in Cape Town and later moved to Johannesburg for her final two years of high school before pursuing her BEng degree at Stellenbosch. Her research assesses the decay factors of different paper products under landfill conditions, which is particularly important to the paper industry.  
As for the transformation portfolio, Thaakira explains its objectives: "The transformation committee is committed to fostering a safe and inclusive environment within the Department of Chemical Engineering. Through open and constructive discussions, we strive to encourage community engagement and promote education about diverse backgrounds and topics." The committee's ultimate goal is to facilitate positive change and continuous improvement within the community, ensuring that everyone feels valued and supported. Thaakira's advice for undergraduate students emphasises the importance of taking breaks and pursuing personal interests: "Just dedicating 30 minutes a day to something you enjoy, whether it be going to the gym, going for a walk, cooking a good meal, or a 30-minute solo dance party, it really helps with calming your mind. The undergraduate programme is extremely taxing, so allow yourself time to breathe. Also, don't underestimate a good nap!" 
If you could be anyone for a day, who would it be and why?   
If I could channel anyone's energy for a day, I'd totally go full-on Michael Scott from The Office – minus the inappropriate and cringe-worthy moments. That man is a comedic genius! With his confidence, humour, and willingness to take risks, he's a force to be reckoned with – "The only time I set the bar low is for limbo."
Send Jade an email.
Matthew Noach
(Monthly Bulletin Editor and Safety Rep)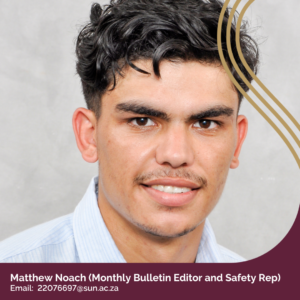 Matthew Noach, the Monthly Bulletin Editor, hails from Bulawayo, Zimbabwe. His postgraduate research is centred on producing enzymes called alginate lyases used in brown seaweed/alginate processing. 
Regarding the monthly bulletin, Matthew encourages staff and students to contact him with news they feel comfortable sharing and think would add to the department's spirit. "This could be in the form of an interesting podcast they listened to during the month, a song that they have had on repeat, a movie/series suggestion, or even an interaction they had with a student/staff member that left a lasting impression." The submission deadline is preferably two weeks before the end of the month. 
When asked what he enjoys most about chemical engineering, Matthew jokingly responds, "Not much, just kidding! What I probably enjoy most is when I tell someone I study chemical engineering, the reaction is almost always the same from person to person – 'wow, you must be smart' even though that may not be the case, I take it anyway." 
If you could have dinner with anyone, who would it be, and what would you ask them?  
I would have dinner with Prof Cara Schwarz because she was one of my favourite undergraduate lecturers. I would ask her if I must wear lab goggles while eating.
Send Matthew an email.