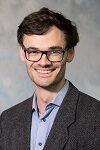 Prof Tobi Louw
Associate Professor | Process modelling & monitoring


Short Bio
Education
PhD in Chemical and Biomolecular Engineering (University of Nebraska-Lincoln, 2013, cum laude)
B.Eng in Chemical Engineering (University of Pretoria, 2007, cum laude)
Appointments
Associate Professor: Stellenbosch University, Dept. of Process Engineering; January 2021 – Present
Undergraduate Programme Coordinator: Stellenbosch University, Dept. of Process Engineering; January 2019 – Present
Senior Lecturer: University of Stellenbosch, Dept. of Process Engineering; January 2016 – December 2020
Lecturer: University of Stellenbosch, Dept. of Process Engineering; May 2015 – December 2015
Postdoc: University of Cape Town, Dept. of Chemical Engineering; August 2013 – April 2015
Scholarly activities and awards
Grand Challenges Africa grant: Principle investigator on the use of machine learning in antimicrobial resistance surveillance.
Active collaborations in international research projects with a focus on urban wastewater profiling.
Multiple industry-funded projects in process monitoring, modelling and optimization.
Stellenbosch University, Engineering Faculty's "Upcoming Researcher of the Year", 2019.
National Research Foundation Y2-rated researcher.
Member of the South African Society of Engineering Education, South African Council for Automation and Control, Water Institute of Southern Africa and International Water Association.
Research Interests
Process modelling, monitoring and control, with an emphasis on advances in machine learning. Recent projects include:
• Statistical modelling of micropollutants in river networks
• Statistical modelling of the prevalence of antimicrobial resistance
• Machine learning for process monitoring and control in the minerals processing industry
• Fluid dynamics, mass transfer, and reaction kinetics for (bio)catalytic alkane activation
Selected Publications
A list of his published works can be found on his Google Scholar profile.
Teaching
• Particle Technology 316
• Chemical Engineering 344 (Modelling and Optimization)