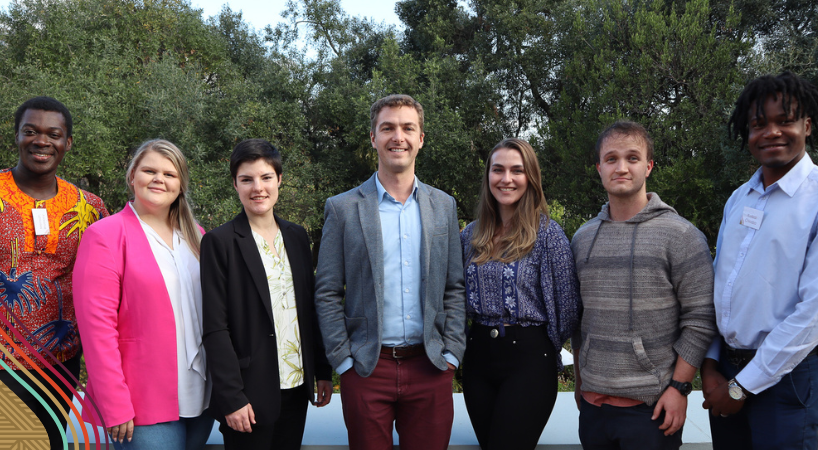 Postgraduate candidates specialising in chemical engineering from across the Western Cape joined forces to present their research on Friday, 30 September, at an Interinstitutional Chemical Engineering Postgraduate Symposium hosted by Stellenbosch University's (SU) Department of Chemical Engineering. 
The event, held at the Stellenbosch Institute for Advanced Study, welcomed postgraduate researchers from the chemical engineering departments of the University of Cape Town (UCT), Cape Peninsula University of Technology (CPUT), and SU. Staff members of these departments were also present, including Profs Maggie Chetty (Chairperson of CPUT's Department of Chemical Engineering) and Mujahid Aziz, Prof Christie Dorfling (Chairperson of SU's Department of Chemical Engineering), and Prof Jack Fletcher and Mr Steven Roberts of UCT. 
The postgraduates had the opportunity to showcase their work through oral and poster presentations, and the hybrid event included those unable to join in person to view these presentations virtually. Attendees were invited to vote for their favourite posters and presentations. Karen Ssekimpi of UCT was awarded Best Poser (see the poster here). Candace Eslick and Carla Mathyse, also of UCT, were runners-up. Their posters can be viewed here. SU's Kudzai Chiodza won Best Presentation, with his fellow SU postgraduate, Veronica Lourens, voted as runner-up.  
Two keynote speakers – Prof David Lokhat (University of KwaZulu Natal, President of the South African Institute of Chemical Engineers) and Prof Kevin Van Geem (Ghent University, Belgium) – gave fascinating and motivating presentations on collaborating in chemical engineering, and how the profession can move towards net-zero.  
"The day was a valuable showcase of the excellent, novel work being done in the Western Cape," said Prof Robbie Pott, Postgraduate Coordinator at SU's Department of Chemical Engineering. "I'm certain that the audience enjoyed the stimulating science, the collaborative atmosphere, and the opportunities for discussion," Pott concluded. "I look forward to seeing the projects progress at next year's symposium!"  
Visit the Symposium's website to see the complete event programme and view the presented posters.