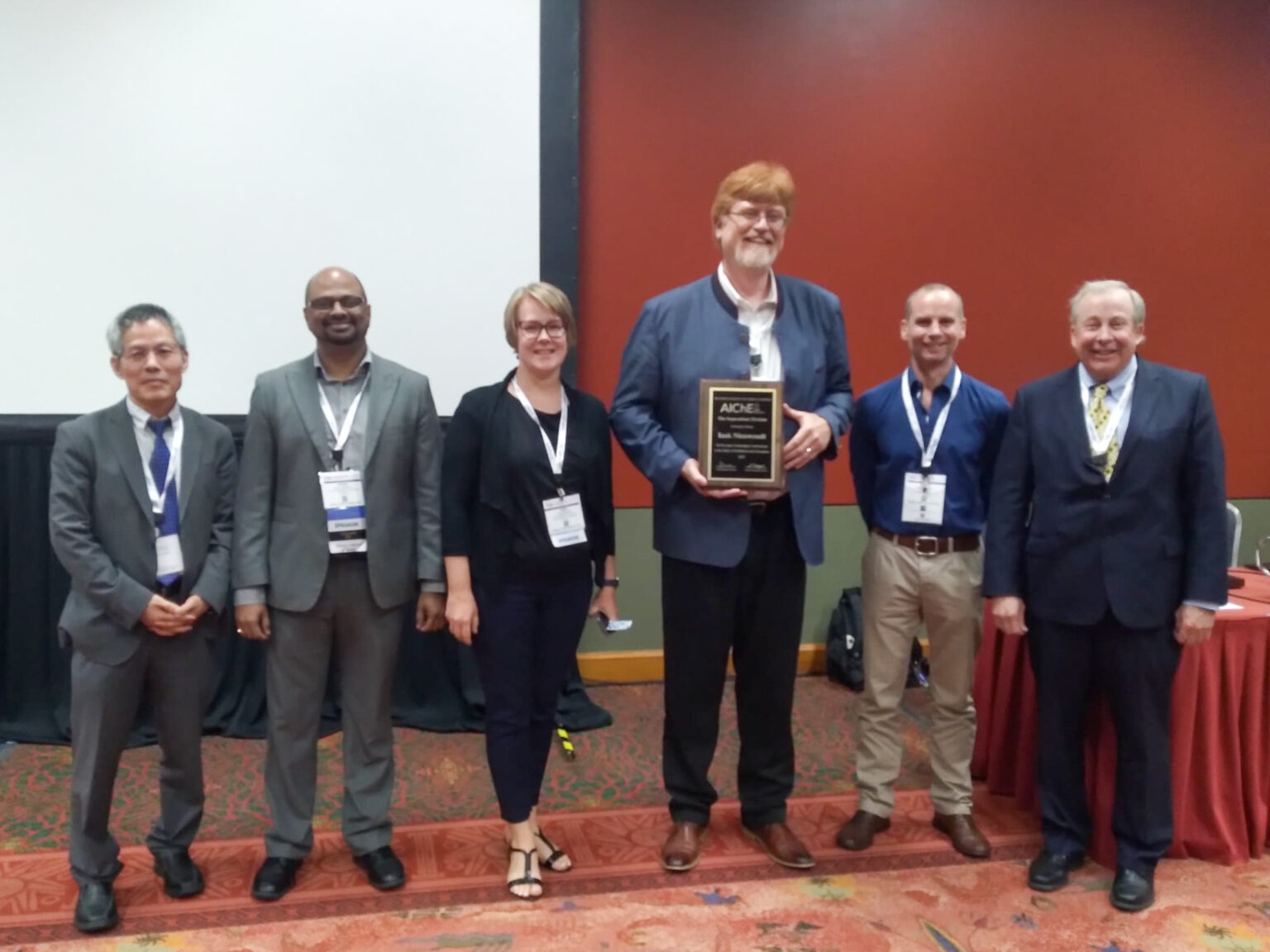 The Process Engineering Department at Stellenbosch University (SU) is immensely proud of Professor Izak Nieuwoudt, who was recently honoured for his outstanding contribution in the fields of distillation and absorption. He received this accolade during the American Institute of Chemical Engineers (AIChE) Spring Meeting 2022, held in San Antonia, Texas.
Prof Nieuwoudt, an extraordinary professor at the Department of Process Engineering, has made a significant and valuable contribution in his research fields of distillation and absorption. In a career spanning 35 years, Prof Nieuwoudt has developed and patented multiple processes and equipment. He has supervised seven PhD students and 14 Master's students, and has spoken at over 20 national and 50 international conferences. Prof Nieuwoudt has also acted as a reviewer for multiple international journals, including Industrial & Engineering Chemistry, Journal of Supercritical Fluids, and Journal of Chemical & Engineering Data.
Indeed an icon in his field, Prof Nieuwoudt received his award from the AIChE during a special session held in his honour. This session formed part of the Distillation Symposium 2022: Mass Transfer in the 21st Century. What made the event even more memorable was that two of his former PhD students were also present. Prof Cara Schwarz, also a professor at the Process Engineering Department, as well as Dr Andre Erasmus both delivered presentations during the seminar. Dr Erasmus' topic was: Revamp with Koch-Glitsch PRO® Valve Trays Doubles, while Prof Schwarz discussed: Sensitivity of Distillation Column Design to Data against which Thermodynamic Models are Correlated.
"It was an honour to complete my Master's and PhD studies under the supervision of Prof Nieuwoudt," says Prof Schwarz. "His influence already started in my undergraduate studies, where he equipped all his students with a strong foundation," Prof Schwarz adds. An icon in her own right, Prof Schwarz is the first woman in the history of the SU Engineering Faculty to be promoted to the rank of full professor.
Prof Schwarz recalls how Prof Nieuwoudt and his wife Traute, also a lecturer at SU at the time, always took good care of their students. "It was like we were part of the family." Prof Schwarz adds that the function honouring Prof Nieuwoudt was also an opportunity to see Traute and the couple's children again. "Twenty years later, it was almost like a family reunion."
Although Prof Nieuwoudt and his family now live in Wichita, Kansas, he has deep roots in the Process Engineering Department, where he obtained his undergraduate, Master's and PhD degrees. Here, he not only set the foundation for his memorable career, but he also enabled and encouraged his students to do the same.
Cover photo: Prof Izak Nieuwoudt with the speakers he invited to speak at his award ceremony. They are Toni Cai (Fractionation Research Inc), Anand Vennavelli (Koch-Glitsch LP), Cara Schwarz (Stellenbosch Universiteit), Izak Nieuwoudt (Fractionation Research Inc), Andre Erasmus (Sasol) and Frank Seibert (University of Texas at Austin).